Axial Fans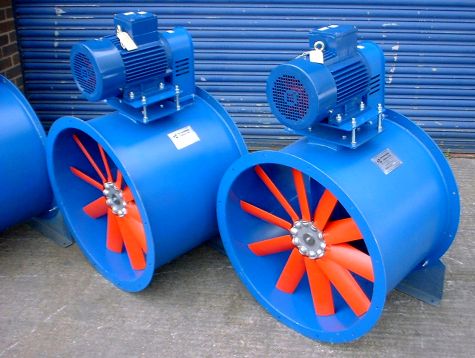 The standard range comprises:
Belt Driven Axial Fans
Long Cased, Direct Driven Axial Fans
Short Cased, Direct Driven Axial Fans
Smoke Extract Fans
Normal Temperature Bifurcated Fans
High Temperature Bifurcated Fans
Belt Driven Bifurcated Fans (with Twin Motors)
General specification for all axial fans
Casings - Fully welded, mild steel construction, with pre-punched flanges. As an alternative we can supply stainless steel and PVC.
Impellers - Adjustable pitch blade mounted in a aluminium hub. Blades can be manufactured in Poly Propylene (max temp 60'C), Glass Reinforced Nylon (max temp 150'C) and Aluminium (max temp 250'C). We can also supply fixed pitch mild steel & stainless steel impellers.
Motors - A wide range of motors are available, three phase, single phase, hazardous area etc, all conforming to modern European standards.
Finish - As a standard, cases are de-greased, primed and finished with a top quality paint. As an alternative, casings can be galvanized or epoxy coated.
Ancillaries - A full range is available for all fan sizes, these include matching flanges, mounting feet, anti vibration mounts, flexible connections, guards, silencers and starters.
Fans for special applications
As well as the standard range of axial fans, Fan Engineering also manufactures special purpose fans, such as:
Hazardous area (ExN, EExD, EExE etc.)
Emergency smoke extract (up to 400'C)
Two stage, contra rotating
Run & standby sets
Two speed motors
Ancillary equipment
A full range of ancillaries are available, these include:
Mounting feet
Anti vibration mounts
Mating flanges
Flexible connections
Bird mesh guards
Starters
Silencers